INTRODUCTION
daywalk: Helm Crag


1

Traverse Paths
LAKELAND EAST TO WEST
daywalk: Langdale

2
Morning Mist on Ullswater
LAKES OF LAKELAND
daywalk: Ullswater

3
England's Eiger
LAKES 3000s
daywalk: Scafell & Eskdale

4
Summer
BOB GRAHAM ROUND
daywalk: Fairfield

5
Eskdale
SCAFELL SCRAMBLE CIRCUIT
daywalk: Pillar & Steeple

6
Autumn: Borrowdale Rain
EVENTS
Kentmere Race
Spring in Lakeland
Ennerdale Hunt
daywalk: High Street by Long Stile

7
Starlight
SCAFELL THE SLOW WAY
daywalk: Not Great Gable

8
Unhappy Formations and Natural Melancholy
TEN TARNS TOUR
tarns daywalk: Waters of Coniston

9
Winter: Ice is Nice
SHARP EDGE ICY
daywalk: Skiddaw
Hardknott
TRANSPORT, ACCOM, INFORMATION
halfdaywalk: Wallowbarrow Gorge
INTRODUCTION
Your standard Lakeland day starts in Borrowdale or Langdale; follows some huge stony path by way of Esk Hause to Scafell Pike or else to Great Gable; and then goes back to Langdale or Borrowdale.

Why?
One of the worst things in hillwalking is walking up hills. You don't spend your coffee break walking up the fire escape. Helvellyn's a hundred times higher than the fire escape, which makes it a hundred times as much fun, and that still multiplies out to less fun than it could be. The view becomes smaller and further away but otherwise doesn't change. The weather becomes slowly worse until you're in the cloud. And what do you get when you get there but some orange peel and a big pile of stones.
However, there's one thing that's worse than walking up hills: walking back down them. Walking up is tiring but walking down hurts. Walking up, you could console yourself with the hope that eventually you'd turn around and start to walk down. Walking down, there's nothing to look forward to but bed and death.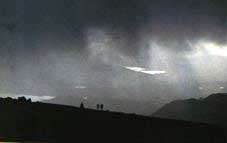 It beats me how anyone gets started hillwalking. Hillwalking, when you start, consists of walking up some slow unfit and painful hill, stopping for a while to appreciate the orange peel, and walking slow unfit and painful back down again. It beats me how I got started, in my school mac and gym shoes, up Gable from Wasdale with an Ancestral Member of the Fell + Rock Climbing Club twenty yards ahead... then fifty yards ahead... then stopping at a cairn until just before I caught up, and striding away again as if Gable was really Great and Wasdale a wonderful place to do it from. As soon as possible I took up rock climbing. On rock you've got the ancestral Fell-and-Rock member tied down with ropes so that he can't get away. It's only when you've got a bit bigger and fitter that you start having the enjoyable bits between the nasty up at the beginning and the nasty down at the end. The bigger and fitter you get, the more your days consist of ridge. And soon you become an instinctive ridgewalker, your eye naturally following those v shapes in the contour and your foot following your eye from peak to peak through mist, rain, snow and the occasional Long Hot Summer's Day.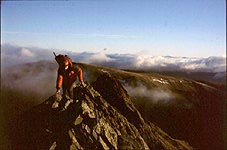 At this point you start to worry. Peak-bagging may resemble stamp collecting - or stamp-collecting with slight added adventure, as it might be if every thousandth stamp hinge were treated with a quick-acting deadly poison. However, there are millions of possible stamps, but only two-hundred and fifteen Lakeland Hills. (Two-hundred and fifteen? Well, I refuse to leave out Pillar Rock.) Will there soon be nothing for it but to buy a deck chair and start studying the works of Wordsworth?
Wordsworth can wait. There's a lot more to the Lake District Hills than just the hills. This book is mostly about bottoms and other bits.
First of all, try bagging tarns not tops. Tarns have grassy banks to recline on and romantic crags to overhang them. Also, you never need to carry a waterbottle. Then there are the valleys, and the natural destination of a valley, which is a high pass. Link them together over sev eral days, throw in a few lakesides, and you have bad-weather backpack route that's actually better than the fine weather one over the ridges.
Next there are the sides. The up-and-down path is popular, steep and stony. The path around is narrow and interesting. It has big drops below, and crags above. Thus we have the day of not climbing Great Gable. And thus we have the East-to-West backpack, which strings together such high traverse paths. The East-to-West, as well as not climbing Gable, manages to not climb High Street, Fairfield, Bowfell, Kirkfell, Pillar and even Scafell Pike.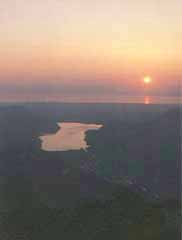 The Lake District isn't the Isle of Skye. The annual rainfall's less, and there aren't nearly enough bogs. Nor is there a Cuillin Main Ridge traverse. To construct an English equivalent of the Skye Ridge, you have to link together 7000ft of scrambling with 30 miles of sides, bottoms, and even - it has to be confessed - the occasional top. Thus we arrive at the Scafell Scramble Circuit which dives round the back of Dale Head, wanders along Buttermere, crosses Pillar Rock and goes up through the crags of Scafell. The Skye Ridge doesn't even have drinking water: the Scafell Scramble Circuit has two large lakes, as well as beer and pub snacks at four different locations.
The pleasures of overindulgence are explored in the walk of the four three-thousands. It's the most satisfying 40 mile day in all England - partly because it's not just those four tops, but also all Borrowdale, the back of Derwentwater, and bang across the middle of the Central Fells. Less arduous is the 42 peak circuit of the famous Bob Graham Round. Less arduous, because - if you've any sense at all - you'll do the whole thing from the comfort of your armchair.
In most of mountain Britain, the best day you can have is to drive as far into the hills as possible; walk up a path to the 600m contour; and stay above that contour until tea-time. Lakeland is better. Combine a fine high summit with a riverside, and a scramble up a gully, and a wood of oaks and boulders. If you must do Scafell Pike, do it from Rydal, or Kendal, or Coniston, or even somewhere in Yorkshire.

However, I have peppered the text with one-day walks from car parks. I hope that each of these nine daywalks offers something more than a simple trip to a summit cairn. They are intended as a gentler entry to this world of the worthwhile absurd - of the hill walk without hills, of the ending-up-in-Ambleside, of the path to nowhere.
Then there are days when it simply isn't convenient to walk over, beside or below any Lakeland hill. The weather may be just too dreadful or the boots away being resoled. One may be awkwardly placed in a distant city trying to earn some money to pay for that fully-waterproof, fully-breathable overjacket. (Not worth it. There isn't any fully-waterproof, fully-breathable overjacket.) Recent research has shown that sitting and thinking about it can be just as good... Mind you, that research involved the training of the little-finger-sideways muscle. It cannot necessarily be applied to the Lakeland-Mountain-sideways muscle. This book is dedicated to the idea that thinking about it afterwards should imperceptibly slide into thinking about it beforehand - and so into going out and doing it. May you enjoy many topping days on the sides and bottoms...