CONTENTS

Introduction
1
North Sea to Irish Sea
Wainwright's Coast to Coast
2
Bristol Channel to Irish Sea
Offa's Dyke Path
3
Irish Sea to Bristol Channel
Snowdonia to Gower
4
Bristol Channel to English Channel
Uphill to Old Harry
5
Atlantic to North Sea
Highland and Grampian
6
Irish Sea to North Sea
Lakeland to Lindisfarne
7
North Sea to Atlantic
Beauly to Applecross
8
Solway to North Sea
North to the Forth
Foot notes
Other coast to coasts
The one you make up yourself
General information
Skills, equipment and safety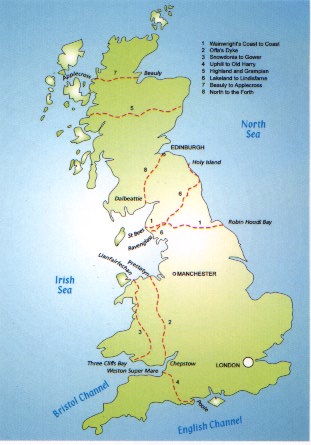 Map copyright John Gillham 2000


INTRODUCTION
The best walks go all the way across.

Start with the sea-cliffs of Dorset or Yorkshire. Here the wild weather, crags and narrow paths of mountain country are brought conveniently down to the zero contour and enriched with crashing surf and sandy beaches. Walk a gentle coastal plain, and the first of twenty mossy woods. Play hunt-the-stile for half a day across the cow pastures.
Then, perhaps, the Pennines: and the Pennines not as a place to drive into and do a little circular walk, but the Pennines as a huge obstacle lying across the path. Or not the Pennines but the Eastern Grampians, or the Mountains of Mourne. Cross the stony or peaty plateau, under whatever weather it feels like throwing at you, and at dusk descend to an unknown valley and the lights of an inn. Meet the landlady you spoke to on the phone a fortnight ago from some city office or suburban hallway or even on your horrid mobile.
The original coast-to-coast, and certainly one of the best, is Wainwright's Coast to Coast ("The Coast-to-coast"). Going bang through the middle of three great upland areas, it is guaranteed good hill-walking. More, the hill-walking is good in three different ways, as the walk passes from the North York Moors, through Swaledale, to its climax in the Lake District.
This is probably Britain's most popular long-distance route, and rightly so. It has a balance of the wild and the civilised that's just right for ordinary walkers on their first long walk. It has some tough days, but every night is a comfortable one in inn, B&B or youth hostel. It has the proper complement of woods, waterfalls and footbridges. It is challenging, but not too challenging, and its 190 miles (300km) take a fortnight, which is a convenient space of time.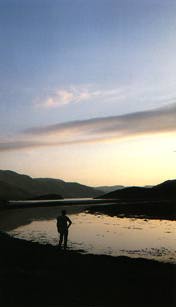 The aim of our book will be to convince you, by words and by pictures, that there are other walks of this calibre in the British Isles. Many of our readers will already have completed the Wainwright Coast to Coast, and will be looking for something similar - something similar but shorter - or something just as good but a bit more challenging.
In a recent survey by Strider, the magazine of the Long Distance Walkers' Association, the title of "Best Long-distance Path" was shared by Wainwright's Coast to Coast and the Offa's Dyke Path.
This one is the only National Trail - indeed, the only waymarked route - in our book. Here are no popular hills (apart from the Clwydian Range), but a quiet country of upland and valley. Its 170 miles (270km) can be covered comfortably in ten days or a fortnight, and Offa's Dyke is a sensible sort of walk in other ways as well. Modern civilisation seems distant in this under-populated country, and yet its happier manifestations, such as B&Bs and beer, occur as often as required. The line of the ancient Dyke lends a historical rationale to a walk that really doesn't require such added justification.
The Snowdonia to Gower coast-to-coast route takes Wales more seriously, choosing to head for the bigger, rockier mountains of the national parks. It seeks out the highest tops like Snowdon and Cadair Idris, but, for the days when it rains or when you're just a bit under the weather yourself, it offers low-level alternatives that take in the valleys and the passes. Sometimes it just feels better and more logical to thread through the mountains rather than over them. Snowdonia to Gower also seeks out that bit of Wales in the middle: the green bit nobody bothers with. Walkers on this route will remember this green bit: it's the bit where the roaring torrents of Elan thunder down huge stone-built dams; it's the bit where unknown splintered cliffs look down on crystal streams and oakwoods; and it's the bit where you can go two days without meeting another walker.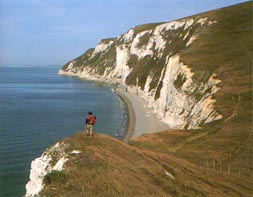 Crossing Somerset and Dorset, Uphill to Old Harry is a greener and gentler sort of walk: a good one for Spring or Autumn, or for when you've only a week to walk in. It takes you to the limestone Mendips with Cheddar Gorge and the small hills of Somerset, then the chalk ridges and the impolite hill-carving at Cerne Abbas, and finishes along the famous Dorset coast. It offers exercise but also education; for it's a worked example of the 'do-it-yourself' walk made from bits of existing paths, with the Explorer maps as the manual of instructions, and the rights of way as string to tie together the bits that wouldn't fit.
A proper crossing of Scotland takes in both Highland and Grampian: both Wester Ross and the hills of Aberdeen. This is the big one. To the difficulties of 250 miles (400km), mountain all the way, are added: a heavy pack, as camping out is almost obligatory; bogs and midges at low level and June blizzards at altitude; crossings of rain-swollen rivers; and the selection, and then the finding, of a route - for there is no single 'Scottish Coast-to-Coast'. The route we've given is a simple starter. It goes through twelve high passes, rather than over the mountain tops, and has a roof of sorts for every night of the crossing.
Lakeland to Lindisfarne, like Wainwright's Coast to Coast, goes from the Cumbrian coast to the North Sea. Its low-level route requires about the same level of fitness, although the mountain route, which tackles Scafell Pike and Cross Fell, is more serious. Outside the Lakes, where Wainwright opted for prettier paths in two more of the national parks, Lakeland to Lindisfarne heads north-east for the more subtle pleasures of the high Pennines and the stark heather moors of Hexhamshire. After all that time in the wilderness it gets greedy for coast and castles, and spends over 20 miles (35km) on the sand or on cliff-tops, taking in the old fortresses of Dunstanburgh, Bamburgh and Lindisfarne.
North of Inverness the roads shrink to single track and peter out. This is the wild part of our island; the crossing of it may be short but it is very serious. On the way from Beauly to Applecross we cross fourteen mountains, but only one inhabited valley. This is a route of heather slopes and long mossy ridges. It camps high beside a sparkling lochan, threads a precipice and camps beside another lochan. It scrambles onto the stony plateau of Beinn Bhan and watches the sun go down behind the Isle of Skye. At 80 miles (130km) it may be the least long in the book, but it's no short walk when you cross to Applecross.
The whole point of exploring is that you don't know what you're going to get. A route through Northern Ireland, from the Mountains of Mourne through Antrim's nine glens to the Giant's Causeway, was wonderful in some ways but wouldn't quite work overall. So we walk North to the Forth, and cross the gentle but (to most of us) strange ranges of Lowther and Coulter, the Broughton Heights and the Pentlands, to finish in style along the Royal Mile.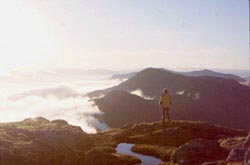 Evolution has shaped us so that the things we have to do anyway are the things we enjoy. So the pleasures of life consist of looking after our children, mammoth-hunting and sex. Children and sex are always with us, but wheeling a trolley to the freezer cabinet at Tesco's really isn't instinctive behaviour. In the absence of mammoth, we are reduced to hunting an idea. One of the best ideas for this purpose is: Coast to Coast.
Let's not call it Adventure. Adventure covers such experiences - synthetic or purchased - as bungee jumping and Disneyland. Self-reliance, personal responsibility do not apply there. If things go wrong it's the organiser's fault, and your grieving relations can sue for large sums.
Get it wrong on Uphill to Old Harry and pay for your mistake with sore legs and nettled knees. Get it wrong on Beauly to Applecross and pay with your life. Chase your food across twenty miles of rough country, and go as hungry as an unsuccessful elk hunter because you forgot the shop closes on a Sunday. Experience deep heather in the dark; unexpected snowshowers on the Great Moss of the Cairngorms; high winds on an over-ambitious scramble on Scafell Pike. In the civilised 21st Century, this is about as real as it gets.

It isn't possible to do 1400 miles (2200km) of ground in guide-book detail in a single volume - the authors have already written detailed guidebooks for three of the walks. The routes are described so as to be traced onto a walkers' map, with additional navigation detail on the four that have not previously appeared in print.
Offa's Dyke, Uphill to Old Harry, and the valley versions of Snowdonia to Gower and Lakes to Lindisfarne can be described as low-level routes. Though map-reading skills are desirable, if you get lost due to lack of such skills you'll suffer inconvenience but not permanent injury or death. The other routes are mountain ones. Some previous experience of hillwalking is advisable, together with hill-type clothing and equipment. Highland & Grampian should not be undertaken as a first long-distance walk, and Beauly to Applecross perhaps not even as a second one.

May and June are the best months for British walking. At other times of year there are high likelihoods of long outbreaks of rain, excessive heat, snow and ice, midges, early darkness, closed B&Bs or excessively soggy paths - though even our lively climate shouldn't give every one of these problems within a single crossing.
Most of the walks have been designed to be done without tent, for those who prefer not to carry immensely heavy loads for days and days on end. These walks are much more enjoyable than lying on some Spanish sand smearing yourself with Factor Five. Don't try to make them also cheaper than Spain. Spend some money in B&Bs and bars, and appreciate that you are bringing revenue to parts of the country that badly need it.
From the Vale of Eden to the Loch of Hell; from the heights of the Pont Cysyllte Viaduct to the depths of Wookey Hole; these walks are as varied as Britain itself. They have just three things in common.
They all start at the sea. They all end at the sea. And they all go all the way across.