CONTENTS

Introduction
1
the Convenient Coast to Coast
Evanton to Poolewe
2
The Two Tops
Stonehaven to Portree
3
Summits of the South
Oban to Arbroath
4
Rough Galloway
Gatehouse of Fleet to Girvan
5
The Southern Upland Way - or not
Cockburnspath to Portpatrick
6
the Wide Way in a Week
Ardnamurchan Point to Peterhead
7
Absurdly Romantic Mull
Iona to Craignure
8
Style and Accommodation
9
Luggage
10
Food and general wellbeing
with some words on Enemies
11
Planning
12
Reference
[see also links page here]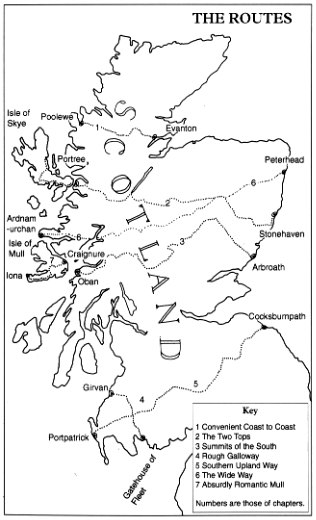 Scotland is just the right size. The 277 Munros are a project of just the right length for a lifetime. Walking or running from one sea to another is always a challenge, yet one that nobody in reasonable health need fear.
In recent years we've realised that you do not have to be a skinny male with piercing aristocratic eyes and a resting pulse rate of twenty-seven to run the Marathon and in fact anyone who really wants to do it can.
Crossing Scotland is easier than running 26.2 miles along a road. It's also a whole lot more fun. You can take the high road, chaining together ridges and plateaux in an intensive geography experience. This was the way the pioneers - of Robertson, Naismith and Sir Hugh Munro himself, and it's still a very good way. Or you can take the low road, finding out the wild and narrow passes between one piece of country and the next as humans have been doing since before we became humans. Either way, you'll breathe the clean heather air of dawn; you'll see the cloud suddenly rise and the sunlight in wet corries; you'll cross a ridge and find half of Scotland before you; you'll descend at evening to remote bothies or arrive, soaked through, at hospitable Highland inns with a fire in the bar. You will come to know Scotland with your feet and find it smaller.
This book offers 108 ways to cross Scotland. Three of the routes are described in guide book detail: The Convenient Coast to Coast, the Two Tops, and Rough Galloway. The Southern Upland Way has its own good waymarks, maps and guidebooks. Four other crossings are given in outline only; you can trace out our routes on the map but my hope here is not that you will follow our footprints through the bog but learn from our mistakes and build on our successes. The other hundred routes are in the four final chapters on how to devise your own. Many happy hours can be spent walking the glens of Scotland across the 1:50000 map, while the Autumn rains beat on the slates.
It was in 1972 that I set out with my friend David to cross Scotland - it was to take us seventeen years to get to the other side. We didn't take the tent - a fine robust tent it was, with wooden poles and thick canvas walls. We'd carried that tent up Glen Affric the summer before and we didn't want to carry it anywhere else, ever. Instead our stout canvas off-the-shoulder rucksacks were stuffed with warm woolly jumpers, cheese sandwiches, hand-mixed muesli and two large orange plastic bags.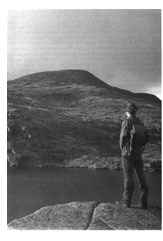 The idea of the orange bag was a simple one. You woke up miserable but alive. However, provided you stayed on top of the thing and didn't actually get inside it you could stay fairly dry - just so long as it didn't rain. But if you slept inside it, you woke up with a sleeping bag that took four days to dry out. When you'd slept once inside the orange bag you walked the rest of the day and then went home.
Our route was not imaginative but it was long. From Glen Clova by Jock's Road to Braemar: then by Glen Feshie and the Corrieyairack to the Great Glen and northwards by Glen Affric and the Falls of Glomach to Torridon. We thought it would take us three or four days. But David started with an upset stomach, and as I enjoyed the views of the Lochnagar plateau he was looking no further than the next tuft of heather to crouch behind.
That was an interesting experience in tentless travel, but one that came to an end at the A9. For a while after that we neglected hillwalking in favour of Real Life. We took up smoking, paid employment and other vices. Then David wrote to say that he'd just done the Wainwright and that the Southern Upland Way passed three miles north of my house and what was I going to do about it? One thing, recounted in Chapter 5, led to another, recounted in Chapter 2.



If a Thing's Worth Doing It's Worth Doing Fast

'As we sat on the ridge enjoying the view and a well-earned cigar a pair of fell runners came panting and sweating up the screes. What can we say of these people who turn the temples of Nature into a racetrack, and do so moreover in tights?'
The result of this kind of remark is that when we runners pass you we put on fixed grins of enjoyment and gaze in an interested way at the horizon. We tend to speed up a bit too - our vanity doesn't just extend to the tights.
Many members of the Long Distance Walkers' Association now wear trainers, travel light and jog over the dull bits; and prejudiced remarks about bumbags are getting less common. In fact each route has its own appointed speed. For the Convenient Coast-to-Coast (Chapter 1) this is a slow amble with frequent stops to enjoy the scenery and if necessary to paint it in watercolours. For the Southern Upland Way, briefly covered in Chapter 5, a brisk run is best over the ever-lengthening forest roads. There is as much difference among those who enjoy the hills with different sizes of leg-muscles as there is among those who enjoy a concert with different sizes of ears.

Nevertheless, if I were not a runner I wouldn't have been on the Carn Mor Dearg Arete at dawn with cloud filling the valleys below right to the horizon. I wouldn't have crossed the Kilpatrick bogs alone in October by moonlight. If you want to become a runner, you will find in this book some discreet encouragement. If you don't, I hope to tempt you into other forms of imaginative eccentricity: perhaps the starlit bivouac (Chapter 8 ), or the crossing skis (Chapter 12). Or quite simply, at whatever pace suits you best, to make your way on foot from one coast of Scotland to the other.