Three Peaks, Ten Tors
paperback: 174 x 117mm full colour pictures and sketch maps
Cicerone 2007: £13: ISBN 978 1 85284 501 8
A look both serious and humorous at what it takes to do a long-distance or challenge walk - the mental toughness, experience, the slight madness - plus notes on planning and undertaking the best such routes.
Ronald Turnbull, veteran of many a long-distance and challenge walk, intersperses sound advice with wry recollections of his experience of the National Three Peaks Challenge and other such routes throughout the British Isles.
For aspiring or novice long-distance walkers, this guide provides tips on how to minimise the suffering, to stay safe, to raise money for charity perhaps, and to find a surprising amount of enjoyment along the way. Old hands will enjoy comparing their experiences with the author's reminiscences of the highs and lows of long-distance routes.
¥ Information on 15 long-distance and challenge routes
¥ Choosing the challenge, planning, preparation, routes, schedules and environmental issues

extracts and some pictures on the Cicerone Press website


reviews
review to come
reviewer
second review
second reviewer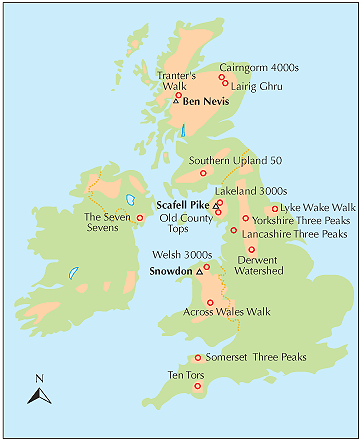 CONTENTS

Introduction
PART I
THE NATIONAL THREE PEAKS CHALLENGE
1
Introducing the Three Big Hills
Ben Nevis
Scafell Pike
Snowdon

2
Ben Nevis, Scafell Pike and Snowdon within 24 hours
Planning
The route: Ben Nevis
The route: Scafell Pike
The route: Snowdon
Variants

3
The National Three Peaks by Public Transport
The good, the bad and the mystery socks
Challenges and the imagination
The Three Peaks by Bus

PART II
THREE PEAKS RATHER CLOSER TOGETHER
4
The Yorkshire Three Peaks
Pen-y-ghent, Whernside, Ingleborough
route and schedule
adventures of the invisible worm (a winter overnight)
Up Ingleborough underground
5
The Lancashire Three Peaks
Longridge Fell, Easington Fell, Pendle
Pen-y-ghent - or Pendle?
Route and schedule

6
Everywhere has three peaks in it
Peaks in threes
Three Peaks of Somerset
The Marilyns: 1554 hills you haven't heard of
PART III
MOOR AND MORE
7
A Weakness for Bleakness
8
Dartmoor Ten Tors
History and geography
Ten Tors for grown-ups
9
Mastery of Misery: the Lyke Wake Walk
The Easiest Walk in England?
Route and schedule
10
The Derwent Watershed
For Peat's Sake
Route and schedule
11
Across Wales Walk
English Border to the sea over Plynlimon
Route and schedule
12
The Lairig Ghru
Through the Ghru
Route and schedule
PART IV
SURVIVAL
13
Time and Space: the Fundamentals
14
Fifty from your Front Door
A Southern Upland Story
15
A Hundred Miles at Once
The Exmoor Hundred
Survival Skills: Sore Legs and Feeling Sick
PART V
RIVER DEEP MOUNTAIN HIGH
16
The Welsh 3000s
Brief route and schedule
Foel-fras to Snowdon with Extra Fun
17
The Lakes at Length
Stuffing the Daffodils
Lakes 3000s brief route and schedule
Old County Tops brief route and schedule
18
The Cairngorm 4000s
brief route and schedule
Getting the Wind up
19
The Mourne Seven Sevens
All Northern Ireland's 700m Peaks
Brief route and schedule
Mourne is never Less
20
Tranter's Walk: 18 Munros around Glen Nevis
The Freedom to Fall
Brief route and schedule
21
Start/Finish
Appendix 1
Information and Internet
Appendix 2
Walks Summary
INTRODUCTION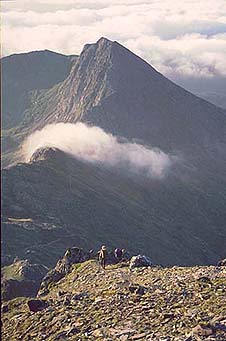 Descending from Snowdon towards Y Lliwedd, dawn, on an extended Welsh 3000s walk

Ever since man came down out of the trees, stood on two legs, and started to walk, some other fellow has been trying to walk further. The fields and fells of England, the mountains of Wales, the forests and drove roads of Scotland: these are all about healthy exercise, the loveliness of the landscape, the pleasure of good company. Except that, from time to time, they're not. They're only about one (probably blistered) foot in front of the other, again and again, till you reach thirty miles or seven summits or some other arbitrary mark.
The reasons for this urge are mysterious. It's the natural pleasure of exercise taken to the point where it stops being pleasure and becomes pain, and then add on another five boggy miles. It's about proving one's toughness and superiority to the rest of the world, except that the rest of the world really isn't interested.
Such self-inflicted suffering does have some compensations. You may be seeing the scenery through a film of sweat and in quick glances upwards from the gps device Ð but you are seeing about four times of much of it as usual. There's a genuine thrill in getting the view of Ingleborough from Pen-y-ghent at dawn, and ten hours later, the view of Pen-y-ghent from Ingleborough at sunset. Short walks, or even moderately long ones, can be frustrating, the way you have to come down just as the hills are getting interesting. Twice as far can indeed be twice as much fun.
Hillwalking is a solitary, or small-group, experience. But some of these challenges are undertaken as part of an organisation or horde. The shared suffering and endeavour are more intense than life offers anywhere outside the field of football hooliganism. Lie down on the wooden floor of Anchor's village hall among a hundred others who, tomorrow, will drip their sweat into a single furrow. As you stumble into the final checkpoint just after midnight on the following morning, be heartwarmingly applauded by the three people still awake.
And it is possible, by mentioning the walk in modest and throwaway style, to gain a certain measure of admiration. OK, I've never been to a party where, because I've achieved the Welsh 3000s, any of the girls wanted to offer me their slim young bodies. But there are a few old greybeards leaning on the bar who've heard it's fairly tough, as well as the annoying other greybeards who did it themselves in the 1950s in breeches and 7lb boots. I did once get bought a whole pint of beer because I'd done Hadrian's Wall in three days. And even if others aren't deeply stirred, the one person who really matters does fully understand the effort and the achievement: that person being, of course, myself.
There's no point at all in boasting afterwards, however, if the person boasted to hasn't even heard of it. Ultimate walks come in and out of fashion. These last few years everyone's been doing the Three Peaks (National); as training for it, we do the Three Peaks (Yorkshire). Meanwhile, the Lyke Wake Walk, once justly famous as the most horrible forty miles of peat in the east, is almost forgotten.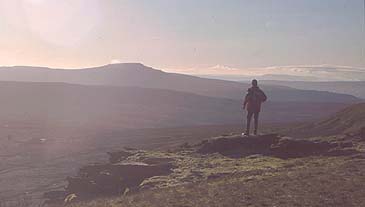 Three Peaks also means Yorkshire. Ingleborough from Whernside

The only fault of the favourites, if they have one at all, is a lack of imagination. Well, the National Three Peaks is also environmentally dodgy as it involves driving around in cars and disturbing the folk of Borrowdale. So the later sections of the book invite the thinking brain to lead the legs into new and less-trampled lands. There are the Three Peaks of almost anywhere else Ð Somerset, South Wales, Ancient Cumbria. There's the friend you've been meaning to visit who's twenty, or thirty, or fifty miles away out of your own front door. And finally, for those with the hill skills and the really muscly legs, there's Tranter's fabulous round of 19 mountaintops around Glen Nevis.
A moment of inattention - a simple 'oh I guess so' - can so easily lead into a day and a night of serious non-stop walking. The happy human brain is super-sensitive to the very slight increase in status achieved by walking the Lakeland 3000s, while conveniently blind to the pains ahead, and afterwards almost equally forgetful of the agony just passed. And so, after a hot bath and a beer, you find yourself saying 'well why not' to the Ten Tors. So here, for the thoughtful morning after that night of the 'well why not', is how to minimise the suffering, to stay safe, to raise money for charity perhaps, and to find a surprising amount of enjoyment along the way.

For Nature didn't design the human leg just for hanging the trendy kitten heels or snakeskin trainers on the end of. A convenient way to operate the brake pedal and the clutch, yes - but feet do have other functions. We humans are long-distance landscape animals. So, late on a summer's day, I found myself heading through long green shadows beside a sparkling river into one of the loneliest glens of Northern Scotland. There, in a small deerstalkers' lodge, were 50 or so folk enjoying a song, the sound of the bagpipes, and a very large meal, with all the satisfaction of having after 38 miles finally stopped walking. Self-indulgent? Not a bit of it - we were raising money for the charity Children First.
In the morning it was up and over a clouded high pass, and down another great empty glen, where the peculiar inspiration of the organisers had provided checkpoint sustenance of greasy beefburgers and neat whisky. The man in kilt and sandals showed just how sensible that outfit is for thigh-deep river crossings, but modestly asked me not to photograph him in revealing mid-stream. At evening, through a rocky hill-slot, we looked out over Loch Duich, golden under low sunbeams. And it was all the more beautiful for being the Atlantic end to two days that began at the North Sea.
It may or may not raise very much money for charity. It's probably going to hurt. And nobody but ourselves is really going to be impressed. So let's get into our lightweight footwear, and go out and have some fun.



Ben Nevis at night, seen from the Mamores (Tranter's Walk, Chapter 20)