The poet Coleridge moved to Greta Hall, Keswick, in 1799 or thereabouts, to be close to his friends William and Dorothy Wordsworth at Dove Cottage, Grasmere. All three of them were great fellwalkers – 30-mile-a-day men (except Dorothy, a 30-mile a day woman, of course). Coleridge passed Moss Force first in dry weather and didn't bother to inspect it closely. Instead he waited (not long: this is the Lake District) for a really wet day and walked out the six miles from Keswick. Moss Force is at the head of the Newlands Valley (grid reference 193175). There is a convenient car park nearby at the top of Newlands Hause, on the small road between Derwentwater and Buttermere.
Coleridge's wife was called Sara but this letter is to his beloved, also called Sara. Sara ("Asra") Hutchinson's sister Mary married William Wordsworth later in 1802.



In my opinion this description of Moss Force by Coleridge is the finest piece of 'outdoor writing' so far. His 60-odd notebooks, as well as the letters, were not intended for publication; but nothing better has yet been written about fell walking.
Coleridge on Moss Force
Letter to Sara Hutchinson
from Greta Hall, Keswick, 25th August 1802, and early September 1802 

I had a glorious walk – the rain sailing along those black crags and green steeps, white as the wooly down on the under side of a willow leaf, and soft as floss silk. Silver fillets of water down every mountain from top to bottom that were as fine as bridegrooms. I soon arrived at the Halse [Newlands Hause] and climbed up by the waterfall as near as I could, to the very top of the Fell. But it was so craggy – the crags covered with spongy soaky moss, and when bare so jagged as to wound one's hands fearfully – and the gusts came so very sudden and strong, that the going up was slow, and difficult and earnest – and the coming down, not only all that, but likewise extremely dangerous. However, I have always found this stretched and anxious state of mind favourable to depth of pleasurable impression, in the resting places and lownding [sheltering: C's italics] coves. The thing repaid me amply: it is a great torrent from the top of the mountain to the bottom. The lower part of it is not the least interesting, where it is beginning to slope to a level – the mad water rushes through its sinuous bed, or rather prison of rock, with such rapid curves, as if it turned the corners not from the mechanic force, but with foreknowledge, like a fierce and skilful driver. Great masses of water, one after the other, that in twilight one might have feelingly compared them to a vast crowd of huge white bears, rushing, one over the other, against the wind – their long white hair shattering abroad in the wind.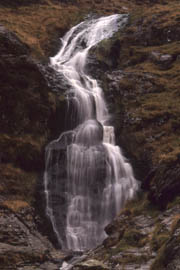 The remainder of the torrent is marked out by three great waterfalls – the lowermost apron-shaped, and though the rock down which it rushes is an inclined plane, it shoots off in such an independence of the rock as shews that its direction was given it by the force of the water from above. The middle, which in peaceable times would be two tinkling falls, formed in this furious rain one great water-wheel endlessly revolving and double the size and height of the lowest. The third and highest is a mighty one indeed; it is twice the height of both the others added together, nearly as high as Scale Force, but it rushes down an inclined plane – and does not fall, like Scale Force. However, if the plane had been smooth, it is so near a perpendicular that it would have appeared to fall – but it is indeed so fearfully savage, and black, and jagged, that it tears the flood to pieces – and one great black outjutment divides the water, and overbrows and keeps uncovered a long slip of jagged black rock beneath, which gives a marked character to the whole force. What a sight it is to look down on such a cataract! – the wheels, that circumvolve in it – the leaping up and plunging forward of that infinity of pearls and glass bulbs – the continual change of the Matter, the perpetual sameness of the Form – it is an awful Image and Shadow of God and the World. When I reached the very top, where the stream flows level, there were feeding three darling sheep, with their red ochre letters on their sides, as quiet as if they were by a rill in a flat meadow, flowing clear over smooth tressy water-weeds, and through by long grass – Bless their dear hearts what darlings mountain sheep are!...

I went to Lodore on Sunday – it was finer than I had ever seen it before. Never were there three waterfalls so different from each other, as Lodore, Buttermere Halse Fall [ie Moss Force], and Scale Force. Scale Force is a proper fall between two very high and narrow walls of rock, well tree'd – yet so that the trees rather add to, than lessen the precipice walls*. Buttermere Halse Fell is a narrow, open, naked torrent with three great water-slopes individualised in it one above another, large, larger, largest. Lodore has its walls, but they are scarcely walls, they are wide apart, and not upright, and their beauty and exceeding majesty take away the terror – and the torrent is broad and wide, and from top to bottom it is small waterfalls, abreast, and abreast. Buttermere Halse Fall is the War-song of a Scandinavian Bard. Lodore is the Precipitation of the fallen Angels from Heaven, Flight and Confusion, and Distraction, but all harmonized into one majestic Thing by the genius of Milton, who describes it **. Lodore is beyond all rivalry the first and best thing of the whole Lake Country. Indeed (but we cannot judge at all from prints) I have seen nothing equal to it in the prints and sketches of the Scotch and Swiss Cataracts.


* 5 Aug 1802: "Scale Force, the white downfall of which glimmered through the trees, that hang before it like the bushy hair over a madman's eyes"
back

** Paradise Lost Book IV – I'll add the line number when I find it – Milton didn't actually ever visit the Lake District of course.
back